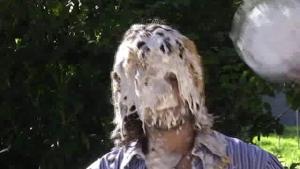 Sexy In Pies
added 14 days ago
Jake shows us how to be sexy while having pies thrown at him! He ends up naked and covered in cream after being pied in the face, chest, crotch and butt and sitting in a messy pie!
see more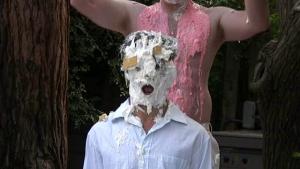 Punishing With Pies
added 14 days ago
What do you do when your roommate steals a job from you? You force him to exercise then you pie him in the face, gunge him, a messy shampoo and strip him naked. Of course the victim then gets his re...
see more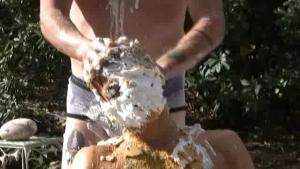 Pay or Mesy
added 3/29/13
A guy loses at cards and can't pay so he's pied, gunged and hair messed up with eggs, syrup and milk then stripped to underwear and head dunked in gunge. Then the winner gets the same treatment and w...
see more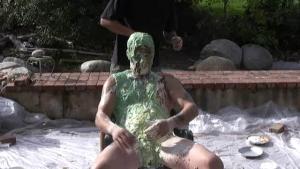 Messy Neighbors
added 3/28/13
Hot rocker plays his guitar to loud so his neighbor punishes him by tieing him up, pieing and gunging him and then stripping him naked. He gets pied, sits in a pie naked, puts his feet in pie, molass...
see more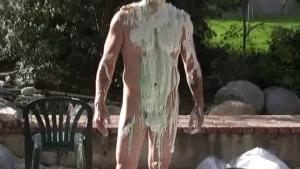 The Waiter
added 3/28/13
Sexy waiter complains about his customers as he gets pied and gunged then strips to a hot thong. We then fill the thong with whipped cream and chocolate sauce before stripping him naked and more pies...
see more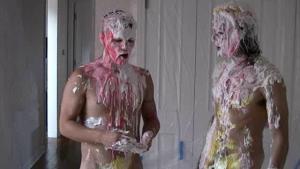 Two Guys Pies and Gunge
added 2/28/13
No plot with this one. We just got 2 sexy men and put them in a room with 16 pies and 2 gunge buckets and told them to have fun just as long as they end up naked and covered and that's just what they...
see more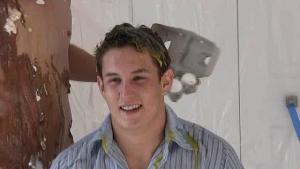 Cheater Punishment
added 2/28/13
What to do when your partner cheats on you? You tie him up while he's wearing his new suit and mess him up with eggs on head and down pants and lots of pies. Then strip him to briefs, pour maple syr...
see more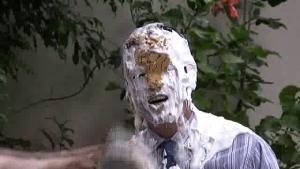 Up for Pies
added 2/28/13
Well dressed business man needs to make some money so he not only takes a bunch of pies but gets naked and Jacks off while we throw pies at him. Our first Jerk Off scene!.
see more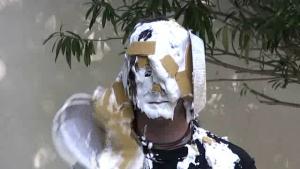 The Pie Initiation
added 1/25/13
Hot Twink wants into the pie frat and that of course means a big mess. We start with some pies and gunge then hes made to strip and more humiliation with pies and gunge! He's then hosed off naked.
see more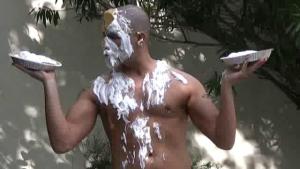 How To Mess Up A Hot Guy
added 11/09/12
Lance shows you how a hot guy takes a pie. Starts off in a suit and then after showing off his body in a thong he gets pied then goes on to show us how a real man pies and gunges himself! Features n...
see more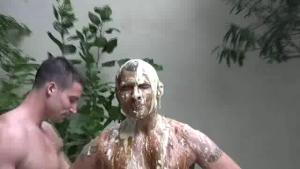 The Messy Audition
added 8/03/12
Our muscle guy puts this sexy model through a messy audition. Many pies as well as lots of gunge and being tied up. Molasses, batter, apple sauce, milk and green slime! Plus nudity and pies to the...
see more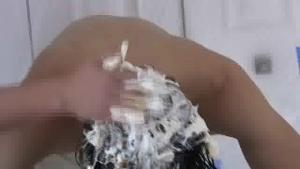 Messy Hair Fun
added 7/19/12
2 sexy vain guys with gel-slicked hair brag about whose hair is better, and then mess each other's hair up with Mayonnaise, baked beans, oatmeal, vegetable oil, shaving cream, baked beans, whipped cre...
see more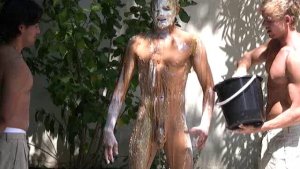 The Hazing
added 7/03/12
Jack wants to pledge at the big frat on campus but first he must go through a hazing that includes being spanked by a paddle, stripping naked and being gunged and pied! Lots of gunge including honey,...
see more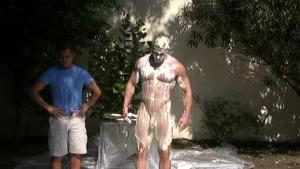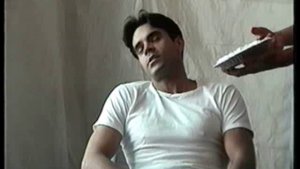 Pie Delivery
added 5/29/12
The hottest scene from the original Abs Pecs Pies! Pie delivery man is late so he gets pies in the face as well as gunged with oatmeal, chocolate sauce, whipped cream, and apple sauce. Also has to s...
see more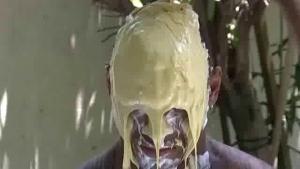 Messy Trivia Game
added 5/11/12
Two sexy men play a trivia game. Whoever answers wrong gets pied or gunged. One guy knows all the answers and stays clean but is he cheating? If so will he get his just desserts? Features nudity,...
see more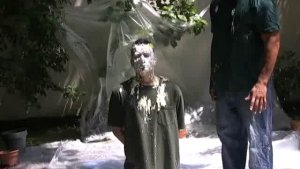 Tied Pied and Gunged
added 5/11/12
A muscular Sargent ties the arms of a cadet and teaches how to resist pie and gunge torture, Pies to the cock and ass as well. He orders the cadet to pie him to show him how to resist! Pies, gunge...
see more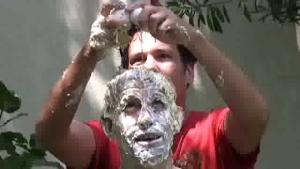 The Pie Experiment
added 4/17/12
Julian and Jack watched one of our videos the night before and decide to recreate it themselves. Sexy naked Jack gets covered from head to toe in pies, eggs, and oatmeal, and becomes a true pie guy b...
see more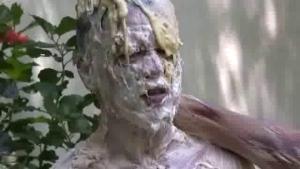 The Punishment
added 4/17/12
Julian promised he would quit smoking, but was caught sneaking a cigarette, so Jack must punish him. He humiliates him with pies, cake, batter, and frosting all over his hot naked body. Includes a c...
see more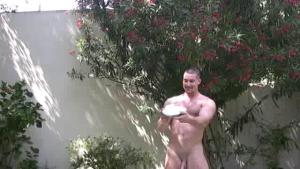 Muscles and Pies
added 2/23/12
Big naked bodybuilder pies himself with shaving cream pies and gunges himself with a bucket of oatmea. He smears the cream all over and is covered from head to toe by the end. Also naked hose down.
see more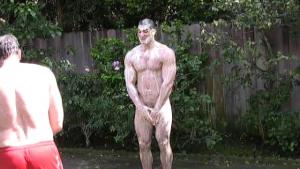 The Initiation
added 12/26/11
Big muscle guy wants to join a frat so an alum puts him through a humiliating initiation involving pies, gunge, and forced naked exercise! Every part of him ends up messy! An update of the famous ab...
see more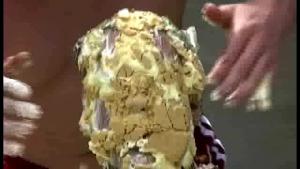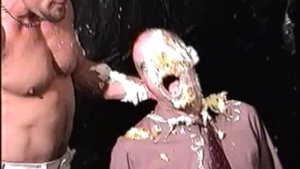 Punished with Pies
added 11/11/11
A webmaster in a shirt and tie is punished with pies by a muscle dude for messing up his website. By the end both are naked and covered in pies.
see more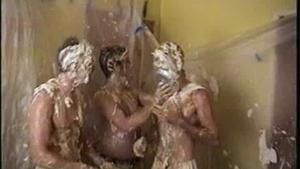 Three Way Pie Fun!
added 11/11/11
Three way messy fun when a couple hire a therapist to come throw pies with them. Well-dressed guys get messy and make out.
see more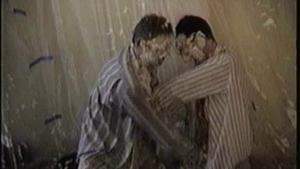 Intro and Pies at Work!
added 7/21/11
Two scenes. The first is a parody of Blair Witch. Cute guy says something's coming and he's right. A bunch of pies! Scene 2 has two men in dress shirts who fight at work. These guys get messy wit...
see more